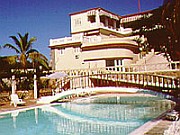 Address:
Calle 23 Final. San Diego de los Baños, Pinar del Río
Category: 3 Stars
Meals plan:
Bed & Breakfast (CP)
Phone:
(53-8) 778338
Fax:
(53-8) 778338
Overview
Located at the San Diego de los Baños Spa, near Sierra La Guira, considered a biosphere reserve. Its medicinal and mineral waters and its natural landscape offer an inviting stay from where you can gain access easily to other tour centers.
Room facilities
Air Conditioning, Bathroom, Radio, Telephone, Cable TV
Hotel facilities
Bar, Restaurant à la carte, Swimming pool, Safety deposit box, Parking, Medical services
Note: The price DOES NOT include any charges for optional incidentals (such as minibar snacks or telephone calls). The lodging will assess this charges upon check-out.
Cuba hotels by destination
Requests
No request in your cart.
Save money booking two or more services at the same time!
Learn how »
Common Questions

Help for this page


Hotels questions
---
OR (On Request) It means that the rates are not available at this time. These will be send on request.
---
Traveler tools
Currency converter, Calculate distances, Airports information, Get deals by email, Weather & forecast.
---
Need help with booking?
For quick answers to your questions, send us an email.
---